"Breathing Room: A Crash Course in Triaging the Dyspneic Small Animal Patient"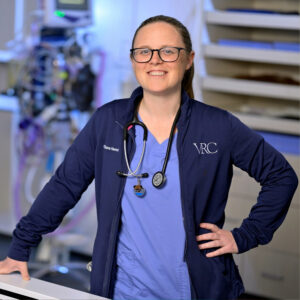 Presented by, Emiliana R. Hennelly, DVM, DACVECC, Wednesday, November 8th, 2023 from 6:30PM – 9:00PM.
In this engaging and informative presentation, we will delve into the science and art of triaging dyspneic dogs and cats. Dyspnea, or labored breathing, can be an immediately life-threatening condition in veterinary medicine, and prompt and effective triage is essential for successful patient outcomes.
Objectives:
Recognize signs of dyspnea in small animals
Prioritize triage of the dyspneic patient
Conduct a rapid but thorough initial assessment
Utilize diagnostic tools while minimizing patient stress
Differentiate etiologies (respiratory, cardiac, and non-cardiopulmonary conditions)
Implement appropriate treatment strategies including oxygen therapy, medication administration, and interventions specific to the underlying condition
Communicate effectively with pet owners, team members, and referring specialists with clarity and empathy
Understand and apply best practice guidelines in a clinical setting ensuring consistent and evidence-based patient care
Enhancing emergency preparedness to respond confidently and competently to dyspneic emergencies
Lecture provides 1 credit of complimentary CE* to veterinarians and veterinary technicians through RACE. (*Pending RACE approval)
LOCATION
Seasons 52
160 N Gulph Rd Suite 101
King of Prussia, PA 19406
REGISTRATION
RSVP by Wednesday, November 1st, 2023