Medical and Radiation Oncology
Medical Oncology VRC features dedicated chemotherapy suites to ensure safe and controlled administration of chemotherapeutic agents. Chemotherapy may be indicated for treating your pet's cancer—either alone or in combination with other modalities, such as surgery or radiation therapy. While animals can experience side effects from chemotherapy, they are typically less severe than those experienced by humans. As with any procedure, our doctors review the risks and benefits of chemotherapy with pet owners and work closely with referring veterinarians to monitor and manage any side effects.
Radiation Oncology VRC is one of a few veterinary hospitals in the country to offer the state of the art Varian Halcyon linear accelerator and Eclipse treatment planning system.  The Halcyon's capabilities include Intensity modulated radiation therapy (IMRT), Volumetric arc therapy (VMAT), Stereotactic radiation therapy (SRT), and Stereotactic radiosurgery (SRS).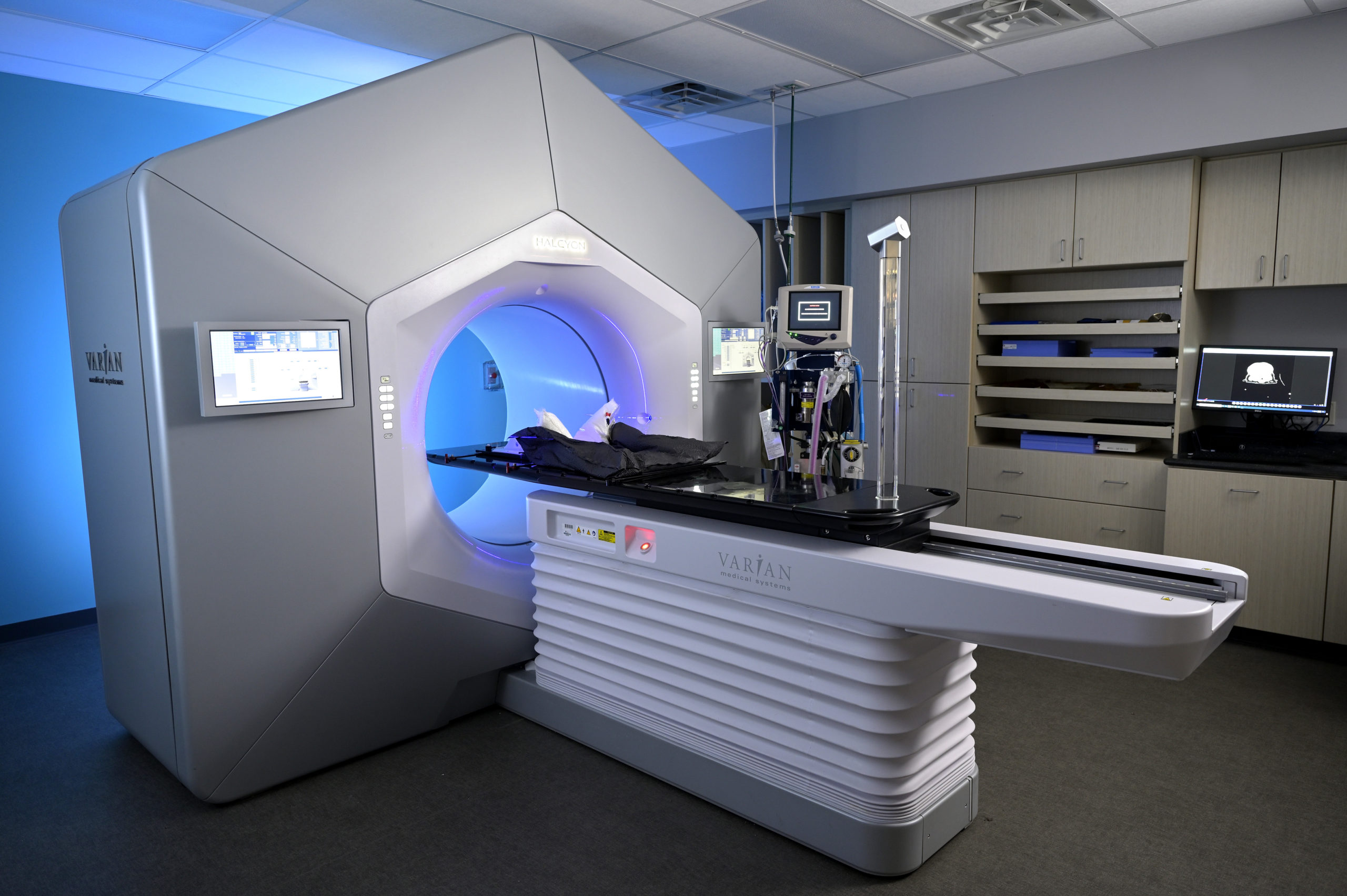 Intensity Modulated Radiation Therapy (IMRT)
Modulates the radiation beam to deposit increased dose to the tumor while decreasing the dose to the normal tissues
Allows the treatment of multiple sites during the same treatment
Provides pain relief
Minimizes side effects
Offers improved quality of life
Consists of 5-20 treatments
Volumetric Arc Therapy (VMAT)
Advanced type of intensity modulated radiation therapy (IMRT)
Radiation is delivered continuously in an arc
Treatment times are much faster than conventional radiation therapy
More conformed dose distribution
Stereotactic Radiation Therapy (SRT) and Stereotactic Radiosurgery (SRS)
Higher does of radiation are given then traditional radiation treatments
Fewer side effects versus conventional radiation therapy
Fewer number of anesthetic events required for treatment
Curative intent radiation doses given within 1 week
Consists of 1-5 treatments
This advanced equipment enables us to address cancers previously thought to be untreatable by delivering high radiation doses directly to the cancer cells, thus sparing normal surrounding tissues. For some localized tumors, it offers a potential cure. In cases where pets have other life-limiting diseases or a cure is not possible, a lower overall dose of radiation therapy can be given to reduce pain, shrink the tumor, or slow its growth. This is called palliative radiation therapy.
To view a list of Frequently Asked Questions regarding radiation oncology at VRC, click HERE.