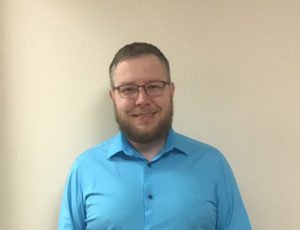 Meet Joe
Born in Philadelphia, PA, Joe earned a B.S. in biology from Southampton College in 2003 and has worked in the veterinary field since 2005.  During that time, he has worked in a variety of roles including as a veterinary technician, in vaccine production for Merck Animal Health, and a human resource/practice manager for a local AAHA accredited veterinary hospital.  Prior to joining VRC, he spent the last 3 years as a veterinary services representative for Petplan Pet Insurance.
During his freetime, Joe enjoys spending time with his wife Brittany and their two amazing daughters.  He also enjoys hiking with his two crazy dogs Harley and Oswald, running, and spending time at the beach.
What is a Referral Relationship Manager (RRM)? 
VRC has a Referral Relationship Manager to ensure that the needs of local general practice veterinarians are being met, to distribute up-to-date materials about new specialties and services, and to introduce our specialists to the referring community. Joe works with referring partners to schedule Lunch & Learn events and VRC doctor Meet & Greets that enable us to nurture relationships with one another. He also coordinates Continuing Education courses at VRC for rDVMs and technicians.
When you schedule a Lunch & Learn or Meet & Greet with doctors at VRC, we travel to your location (with complimentary breakfast or lunch) and provide education, training, and relationship building opportunities
Do you have a request for Joe?
Interested in inquiring further about the opportunities that we offer?
Schedule a visit from Joe
​Request more materials (brochures, magnets, doctor directory, business cards, etc)
Schedule a Lunch & Learn at your facility (food provided)
Schedule a VRC doctor Meet & Greet at your facility (food provided)
Request Upcoming CE Information
Schedule a tour of VRC